Yard Art . . . . Just for the fun of it!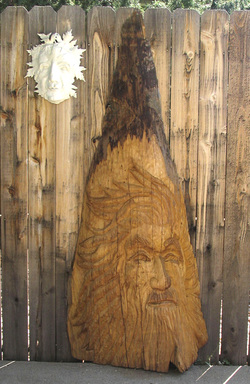 A collector at heart, I love to recycle found objects into yard art! Taking spontaneous detours to stop and pick things up — scrap metal, bones, stones and wood is just a given when traveling. Just about anything is fair game as long as it is not stinky.
I love to carve wood and have done many things throughout the yard. I work in wood, concrete, welded steel, found object collages and APOXIE sculpt.


---
| | | | |
| --- | --- | --- | --- |
| This mask is made with a product called APOXIE. It is wonderful at withstanding the extremes of temperature in Colorado! | | The "Gift of Gab" is just a fun collage of found art. | "Birth of Creativity" utilizes a tail pipe that I brought back in luggage from Italy many years ago; a black powder tin under one arm; a Folgers cap; a cast glass goddess repurposed from an old art project; and a rusty spring "birth canal"! |