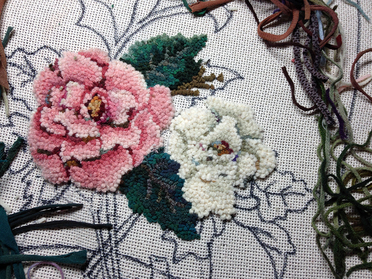 My frame holds a modified pattern named Fragrance, available from Honey Bee Hive. This is a pattern that I will be teaching later this year. I like looking at the flowers collected by the many resources on line.
The photo below is one that I took on a trip I took last fall to Georgetown, CO.
This lily is an excellent example of the dark values that are apparent in the throats and shadows of most flowers. I will be making some adjustments to the shadows on these roses and will show in another post.

The main street in Georgetown is a fun place to go to spend some time and revel in that old mining town. There are many building that have wonderful iron designs on the steps. The third photo below is just one example. I love to collect photos of patterns — both those found in nature and those that are man-made.