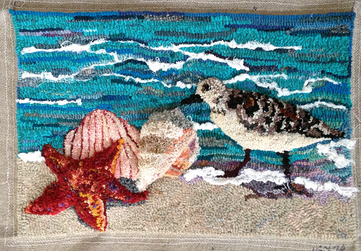 So far January has been busy!
I would like to share with you a series of photos of projects that I worked on last year.
This one is part of a traveling show — Oh To Live By the Sea — and if you attended the fabulous Sauder Village rug exhibit, then you saw it there. The star fish, shells and bird are sculpted. I used common cotton gauze for the foam on the water.

One, or should I say three of things that have been keeping me busy are the new canine members of our family. We have Dare, Ivy and Shine. Dare is 5 years old and a retired champion. Ivy is 6 and a rescue. Shine is just a year old and is also known as NO NO Bad Dog for her antics with the toilet paper. All three are schipperkes.