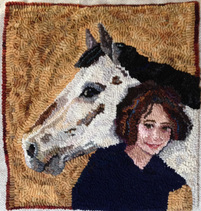 A really big thrill for me in 2016 is teaching at Green Mountain Rug School in Vermont.

The class is designed with a concentration on creating meaningful portraits, and most certainly we will cover a lot of material related to that. There is no end of possibility when you allow yourself the freedom to take an idea — expand it and play with it to create meaning in a rug. All it takes is a little day dreaming to create a memorable idea that can be used to design more powerful imagery with any subject in your hooking endeavors.
The class dates will be June 22-25, 2016, I hope you will join me!
Look HERE to get more information about Green Mountain Rug School.