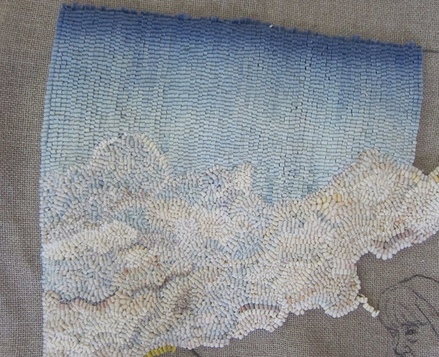 I am really into cloudy skies in my hooking lately. Having that kind of turbulent background in a rug can be tricky. You do not want to overwhelm the other elements in the rug and make sky take the predominant position.


For this particular piece I am combining a dip dye for the upper sky and spot dyes for the clouds. Of course I am always throwing in bits and pieces from my fabulous worm bag! Don't know how I could ever do without that collection of bits!


I have begun removing the more opaque whites and replacing them with the spot dyes that you see in the clouds on the left. After getting this much in place, I hung the rug and looked at it for a few days, This piece is quite large and I decided that much movement with the very opaque whites was going to command too much attention. I do like the more transparent look that the spot dye makes against this dipped backdrop.


I hope that you are engrossed in your own rug hooking projects! It seems to be a great way to welcome the cooler, (who is kidding here?) more like downright COLD weather of this season. It is not even winter, yet!