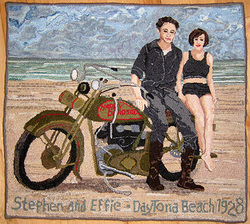 Wow, I really finished this rug, and now am on to other projects!
The harvest from the garden has been amazing this year— but now we have a mess of split tomatoes and spoiled squash from an abundance of late season moisture.
The rains that brought so much destruction and misery have abated and now there is much to be done in the way of clean up and re-building.
I have been busy at the computer with my new job as Editor of ATHA magazine! My first issue will be the Dec/Jan 2014 issue. Look for a few changes in format. If you have fun ATHA events and happenings to report, I would Love to hear about them!
Now our Colorado nights have really taken a dive! We went from the 60s in the evenings straight to the mid 40s!Not sure what happened to the 50s, but we certainly missed them. It is amazing sleeping weather with open windows, and we are lulled to sleep with the sounds of crickets chirping and awakened with bird songs starting at day break!
It is a fantastic time to be considering new hooking projects for the upcoming winter. I have started a big rug and hope that you have gotten a new one going as well!