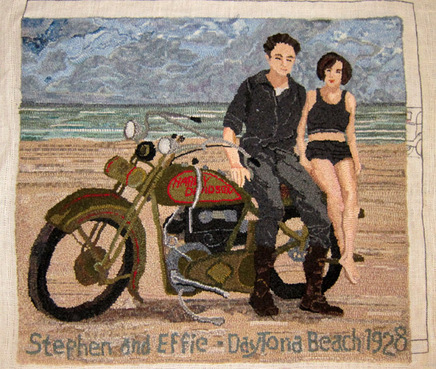 When I am hooking a mat that has areas that are difficult for me, I will often turn to other hookers for a new perspective on what I am doing. In this particular case I sent photos and discussed this project with another teacher, and she gave me some great feedback on what she was noticing. As it turned out - some of the things she saw were things that I had not! Nothing gives you a new perspective on a project more than another set of eyes! But, do bear in mind that you have to trust the artistic experience of that other person for this to work! And, you cannot take offense at what is suggested. You have to truly want to put in the effort to make the project the best you can. Nobody wants to be in a position of providing honest feedback to someone who is easily offended. Thank you, Anita!
And so. . . here we are at what I call the Semi-final stage of this mat. Now is the time that I go in to do a final tweaking of things that I want to change.
I sit down directly across from the rug as it hangs and I make a list. My list for this mat has 13 line items on it. Some are tiny changes and others are, at least I think, pretty significant. One error that I think absolutely hysterical and that I will share with you is the fact that Effie's hooked knees are well below where her legs bend! Now, I am pretty in tune to the human figure, and yet this type of mistake just goes to prove that I (and many others) get into a groove when we are hooking and so much happens serendipitously, seemingly without conscious thought.
This
is why it is so important to take the time to seriously evaluate what you have done BEFORE you call the rug done!
Don't be in such a hurry to get on to the next project that you leave out this very important step (self-evaluation). You will be surprised at what you notice! Especially if you leave the rug hanging where you will look at it several times a day in all lighting.
Now, I promise not to bore you with anymore details about this mat! But, I will post the finished (maybe not bound, yet, but done with hooking) product in a couple of days.