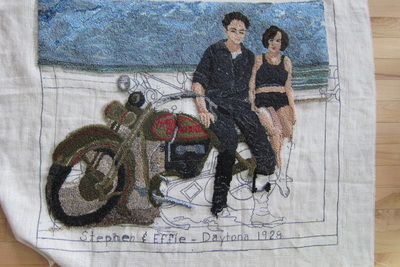 Well, here I have completed the sky, using a couple of spot dyes and lots of bits from my worm bag of leftovers from other projects. I love using wool from this bag to accentuate things as I hook — in this case the highlights on the clouds. Most of the water wool came from that bag as well. The strips may not match exactly, but that is what makes the water look more realistic!
It is an amazing adventure to take photos of any rug as you hook them. By doing this I can see the rug in a different way by putting it on my computer screen and examining it. Here it becomes obvious that I need to adjust the width of the tire and re-draw Stephan's leg.
You may also notice that I have decided NOT to include the extra lights on the handlebars of the motorcycle. Editing out some of the detail on a rug allows the artist to cut to the chase of what is really important. Sometimes all those extra things can clutter up a hooking AND an idea, thereby confusing the viewer — or just lose them in the detail. Deciding what is not important to what you are trying to convey and deleting those things gives the the
viewer easier access to your art.
Now, this series of 3 photos shows big changes as I rip out and re-do specific areas in my hooking. As I started hooking the sand I realized that it was too dark immediately behind the motorcycle. The third photo shows the lighter sand and how it makes the wheel and structure of the vehicle stand out more. Now, take a look at the motorcycle engine! In the first photo you can see that the resource I was using to draw the motorcycle was at a different perspective and did not show the engine from the angle that the photo was taken causing my hooked version to look flat and show no depth. So I added some components to simulate more of a 3 dimensional engine!