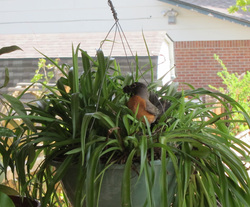 A robin decided to set up housekeeping in one of my hanging baskets right by the front door! She and her mate spent one day frantically building a nest and the next day they chocked it with mud and dried leaves and grasses. Then they took a 3 day honeymoon all over the front yard, the street, in the bird bath. Mercy! Finally got down to the business of laying eggs and now the long hours of setting.
They should hatch any time now. . . . . .


I take advantage of the breaks that mama bird takes to feed. . . . then I keep the plant watered so that she does not lose her cover. She is very tolerant of our use of the front porch and entry way. Watching her has been fascinating!